Low cost carriers account for more than 85% of India's current order book of 923 aircraft, but in the coming weeks two of its full service airlines will add to the tally.
Jet Airways is expected to place an order for a further 100 narrowbody aircraft (this figure may include options) – taking its total of the type to 175 – while Vistara is likely to order 50 narrowbodies and 50 widebodies, according to CAPA's earlier research.
With these planned acquisitions, India's order book will reach 1123 aircraft – the third largest in the world after the USA and China. And its ratio of 2.2 aircraft on order for every aircraft in service would be the highest of any major aviation market.
The projected order book will be dominated by narrowbodies, accounting for 86% of the total. Widebodies and regional aircraft account for just 6% and 8% of the total, and this is after orders in recent weeks for 50 ATR-72s by IndiGo and 25 Q400s by SpiceJet.
After decades of inaction, India is on the way to becoming a regional force
For India, the elastic has at last snapped into place as rapid economic growth and more liberal governance encourages airlines to expand into the vacuum they had left until very recently.
Most of the action for the time being is in domestic and regional short haul operations. Whether this rush of new orders can be absorbed – and whether the infrastructure, including human resources, can support this level of growth is another issue.
Meanwhile the atmosphere is positive and, importantly, the competence of management is growing, led by the highly successful LCC IndiGo.
Ratio of Aircraft on order to Aircraft in service in the 20 largest markets, by current fleet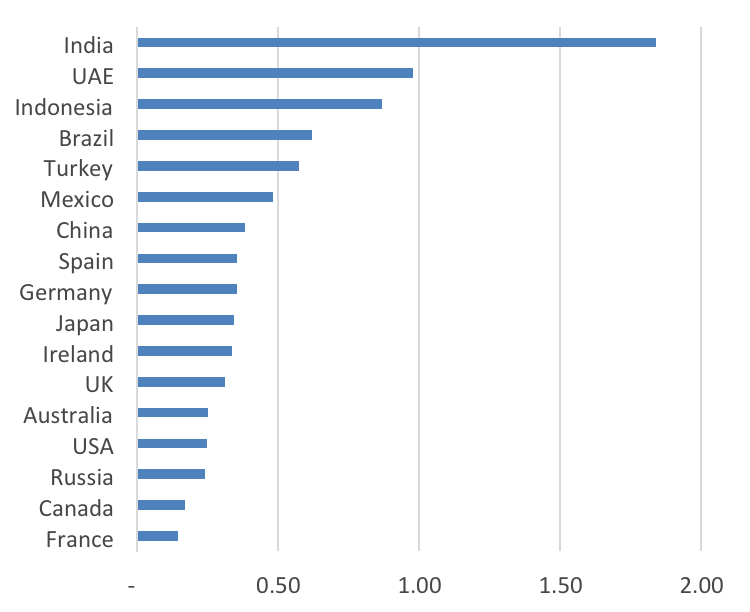 Source: CAPA Fleets Database, CAPA Research.
Note: Ratio for India assumes additional 100 aircraft orders each for Jet Airways and Vistara. Without these, the ratio would decline to 1.8 but would remain the highest.
1. Jet Airways, the oldest private airline is renewing
Jet Airways' existing order for 75 737 MAX aircraft, which are scheduled for delivery between 2018 and 2023, will mostly be used for replacement. At present, half of its narrowbody fleet is aged 9 years or older.
At the same time, the new order for 100 aircraft is intended for expansion. The carrier also has five A330s and 10 787-900s on order, although it continues to defer deliveries. Nevertheless, a large widebody order will be necessary in the near term, both for replacement and expansion.