Ritwik Varshney, 22, from Aligarh, spent his time in Ukraine with his pet rabbit, Sia. In the midst of the country's escalating tensions, this fourth-year medical student chose to battle tooth and nail to bring his furry child back to India.
"Since people have migrated, there was no one to look after Sia in Ukraine." Even though I was willing to pay, the authorities allowed me to bring her back without any documentation. He expresses his gratitude by saying, "It was really sweet of them."
On social media, images of Ukrainian individuals leaving their houses with dogs are circulating, demonstrating that animals do not have to be abandoned even when relocating. And a slew of Indian students have arrived in their motherland with their canine companions by their sides; one such example is Rishabh Kaushik, who was overjoyed when he landed at the Hindon Air Force Station in Ghaziabad with his puppy, Maliboo, last Friday.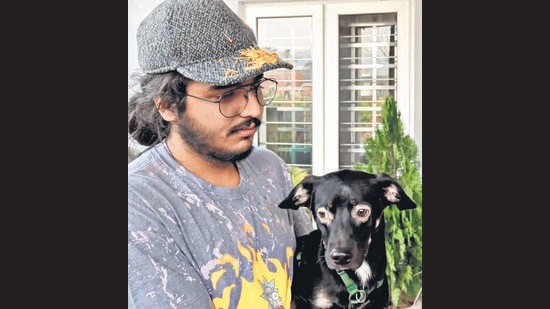 The 21-year-old had tweeted a video regarding the Indian Embassy in Ukraine and the Animal Quarantine and Certification Service in Delhi requesting for "more and more documentation" in order to bring Maliboo back with him.
"Gray, my cat, won't be able to live without me." She'll scratch my door if I leave her in another room. She spent four days in a bunker, yet she was terrified. Gautam Hariharan, a medical student, adds, "I couldn't leave her alone."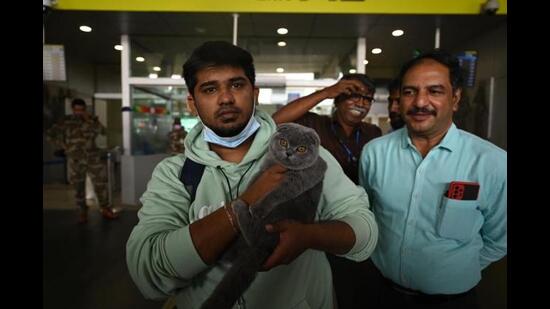 "I took on the responsibility of a life when I adopted him. Main apne bachhe ko kaise chhod ke aata! In the flight that brought me to India, there were 15 pets, including rabbit, cats, and dogs. Din mein bhi bombing chal rahi thi wahan, aur raat mein aur bhi zyada… Jab family se baat hui thi, unka first reaction tha, 'Pagal ho gaya hai, shelter chhod aa use ya phir dost ke paas chhod aa. Wahan bomb phat rahe hain'. And now, they're feeling happy that because of me, other pets could get a second chance to live in a safe place, too," says Kaushik, who hopes to return to Ukraine once the situation there eases.
Facebook Comments